For more than 25 years, La Escuela del Tango has been training professional dancers and investigating the tango phenomenon from different perspectives.
Setting up the school
La Escuela del Tango, created by Claudia Bozzo, started its activities 1 September 1991 under the direction of Elvira Orcaizaguirre. She was the partner of the acclaimed Virulazo, together they traveled for decades through the country's theater stages, taking tango with them wherever they went. Their bohemian life style ended in 1983 with the premiere of "Tango Argentino", in Paris, a successful show for which they danced one of its most reputed scenes and which gave them a chance to tour the world. It is worth mentioning that "Tango Argentino" was a show that fed the flame of tango at the end of its dark decades, a time characterized by the decline of local popular culture which the government had failed to protect.. Elvira's direction marked the beginning of a school engaged in the diffusion and preservation of tango at the heart of Argentina's culture. She continues to be the school's inspiring muse and alma mater.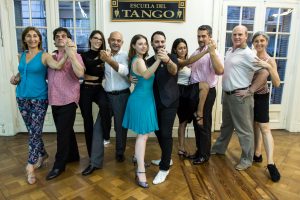 A teaching method adapted to dance
In 1994 Claudia Bozzo took on the direction of the school, adding to its course her cleverness and teaching methods. She claims that teaching is helping another person learn: "We all learn in different ways and when giving a class a teacher has to help the students connect with their own way of assimilating the different elements taught, in this case those of the dance." She also maintains that being a dancer is a creative fact, and that students shouldn't be submerged in automatisms because a dance figure is not a construction of the memory, but a relationship that is built with each dance.
Classes structured to broach both theory and practice
The school rests on two pillars, one which makes the establishment a place of connection and learning of the body, and one which deals with the academic field and the conceptualization of living culture. The first pillar is visible in the training of dancers (professionals and amateurs), the support of creative and choreographic research groups, and their participation in public events related to the world of tango. The second pillar is made up of the constant and edifying interest of the school for the history of tango, its evolution and its relevance in the subjective and social constructions of today. These concerns were naturally at the origins of the specialized tango library, today the home of more than 600 works. The importance of these two pillars explains how our classes are organized to instruct on both theory and practice.
A steady and constant search for growth and innovation
Through the years the school has participated in various activities within and beyond Buenos Aires, involving itself in every authentic and creative proposition that came its way. Its mission encompasses a search for identity, for one's own authentic expression as an individual as well as within a group Claudia asserts that the school is a living organization that transforms itself and recreates itself following its very own search for vitality and creation.
Since its beginning the school has been backed by the Undersecretariat for Youth of the City of Buenos Aires, and has participated in different activities related to the Tango Festivals and World Championships hosted by the capital.
History
1999 – "Opening session of technique enhancementfor dancers" at the II Buenos Aires Tango Festival.
Teachers: Pocho Pizarro, Claudia Bozzo, Augusto Balizano, Zoraida y Diego, Juan Bruno y Alcibíades Videla, Teté y Silvia, María José Goldín, Natalia Games y Gabriel Angió.
2000 – "Second session of technique enhancement for dancers" at the III Buenos Aires Tango Festival.
Teachers: Juan Bruno, Alcibíades Videla, Claudio González y Valentina Villaroel, Claudia Bozzo, Jana Purita, Tito Palumbo, Zoraida y Diego Alvaro, Vittorio Pujía, y otros.
2001 to 2009 – Participation in and venue for the Buenos Aires World Tango Championship.
2007 – Venue for Buenos Aires' Tango Week.
2008 to 2010 – 2008 to 2010 – Venue for the Queer Tango International Festival, Buenos Aires.
2008 to 2011– Claudia Bozzo participates as a jury in the Tango Festival and World Championship.
External venues and activities in other regions:
1995/98 – at the Antonio Devoto Library and at the Villa Devoto Circulo Club, Buenos Aires.
1998 – for the Bariloche community, Argentina:
A cycle of four intensive courses requested by the city's community, each lasting a week, every three months. In partnership with the INEF, Bariloche's Musical Camp, and other institutions.
2010 – for Tangueando Toulouse, France:
Teacher training seminar,
Tango technique seminars for different levels.
2012– Tango classes in Caviahue, Neuquén
The first dancers to have taught at La Escuela del Tango are:
Elvira Orcaizaguirre ¤ Amira Cámpora Sergio Cortazzo ¤ Alcibíades Videla ¤ Claudia Bozzo.
Followed by: Rodolfo y María Cieri ¤ Marta Antón y el Gallego Manolo ¤ Juan Bruno ¤ Roberto Harambure ¤ Coca y José Abregú ¤ Pocho Pizarro y Patricia Verocay ¤ Teté y Silvia ¤ Claudio Gonzalez ¤ Valentina Villaroel ¤ Elizabeth Guerrero y Maximiliano Avila ¤ José Garófalo ¤ Augusto Balizano ¤ Viviana Maceri ¤ Eduardo Bozzo ¤ Vittorio Pujía ¤ Alfredo el Tape Rubín ¤ Analía Goldberg ¤ María José Goldín ¤ Oscar Pittana ¤ Nicolás Ferreira ¤ Julio Bassán ¤ Lucía Berdou ¤ Jessica Tessey ¤ Lucero Mayol ¤ Hugo Fernandez, ¤ Marina Carranza ¤ etc.